After being at St Pauls from day 1 of the Occupy LSX protest, you could tell something was't right and something very fishy was being dealt with the chips and it wasn't your usual Cod. First of all although i was right behind the people i didn't like the word occupy, it seems to sound too much like I wanted to invade, to which means i am prepared to go to war and do battle against the corporation known as the United Kingdom. Put that aside and the first day went fairly well. The police were very much threatening without being threatening until the kettling started…..say that after a few glasses of wine.
Straight from the start you could tell who the leaders were going to be, i kept myself to myself and just wandered asking for interviews. For one i wanted them for my own little project, and for two i wanted them for TruthJuice and also one to go onto the suck-o network. Well like i said i was bemused at the way you could see the leadership forming but with people like Charlie Skelton who donated one of the marquees I was prepared to just sit back and wait to see what happens. Well duty called and i could only hang around for a few weeks when another character that i met a few months ago turned up. He asked if he could borrow my camcorder and stay and get some footage. We talked about the law and how we thought it was a good idea but the structure made it fail from the start. I must say it was very worth while leaving it with him.
Not so long ago we discovered that people like Saskia Kent were helping control the movement so we knew this went further than we realized.  There were other paid activists too which are involved who also had direct contact with the BBC but we will go there another time. Commonly Known as Dom, Mark Windows, Malcolm from Anonymous (with some backing from his friends who remain nameless) all helped to reveal the Common Purpose Shill, most of the attempts to 'out' her were reacted against by her aptly named 'Dragons' as you can see from this video, except this time they failed!
So lets cut to the chase, we know about Saskia Kent and we know she is common purpose trained but there has got to be more, we discovered that Tavistock Institute were also hiding under the covers of darkness  in disguise as another group in the name of Social Dreaming that just couldn't wait to be able to come and use the penned in lab rats of the occupy movement.
None of the GA meetings or anything going on with the Bank of Ideas is going to help the people. These are controlled by facilitators who are trained in using the Delphi technique. This is very good for helping divert people from the real issues and helping focus on issues that are not really there……like the climate change scam. Really funny to understand why the money all got transferred to an account that has an agenda that is totally non conceivable. Still these questions haven't been answered and still no-one is prepared to speak about the accounts. If you do ask questions they try to run you out of camp.
Recently I haven't had much time to do any research but tonight i had a call from Dom, he basically said the same to me as he had posted on Facebook.
After a while he called again and told me that the meeting had once again been diverted from the attention of what the people wanted and different agenda's were followed which no-one wanted to discuss at that time. People wanted action and REAL action.
Dom sent me a link to to where the schedule was hosted and curiosity got the better of me and i did some simple but very legal searches on the domain name and here's is what i come up with…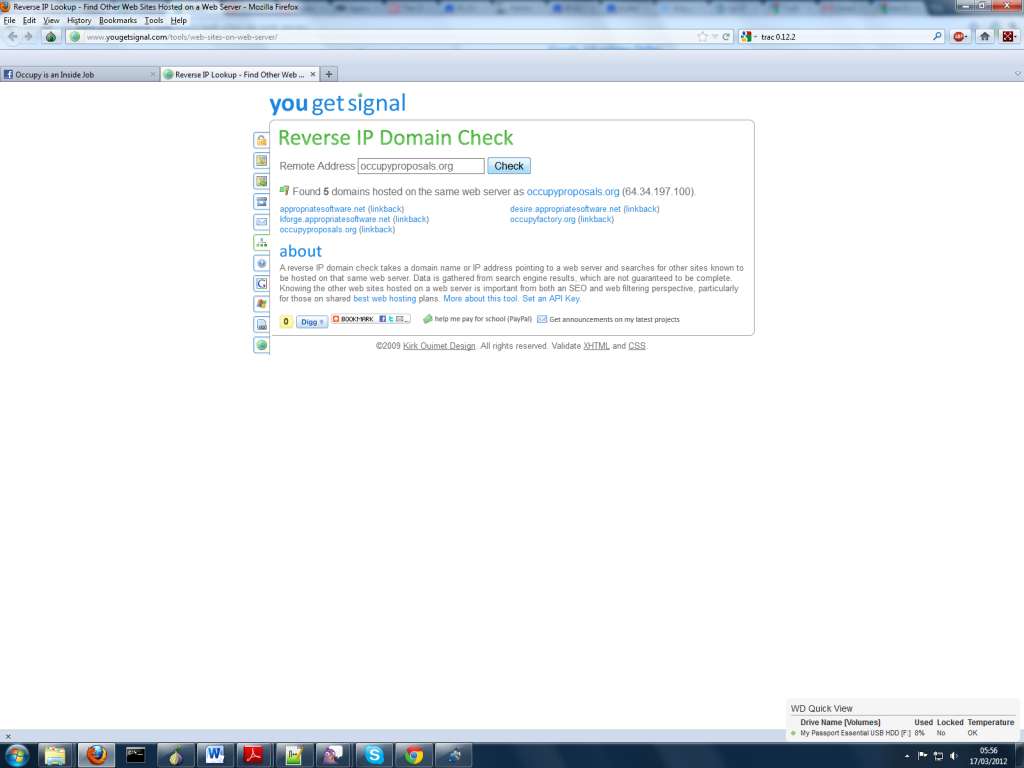 Interesting, i then decided to take a look at a few of these websites. Lets take a look at Occupy Factory.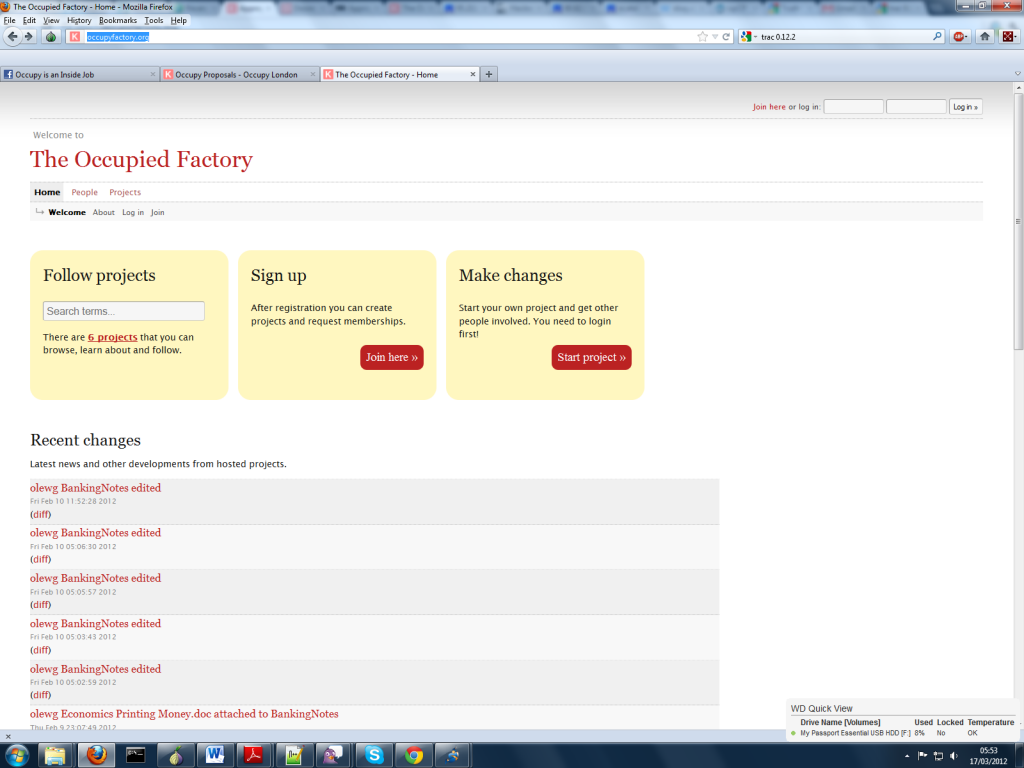 Lets take a look at the next one. What? can you read that?, are my specs deceiving me?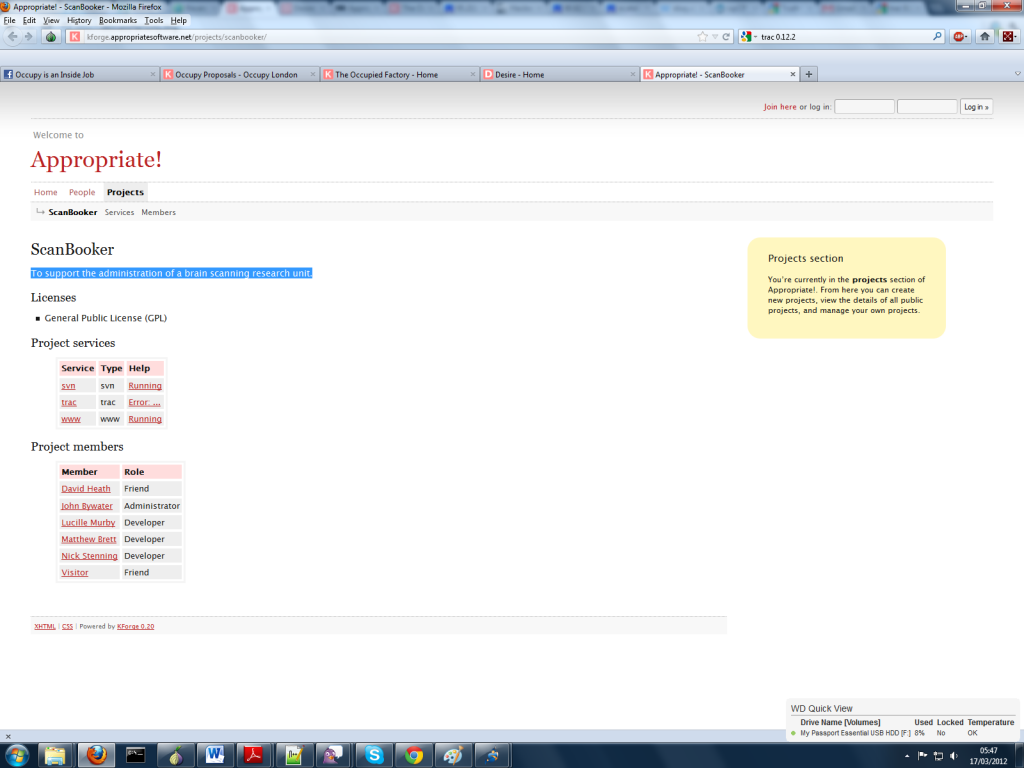 Is this for serious. Lets take a look at the others and are they linked to these websites, is there another connection?
OK lets take a look at the software DNS.
Ok so now this cant seriously get any worse for the people down at the occupy movent in London surely. Does that say what i think it does.
Lets take a look at Desire another section of their program
Holy shmoke, we new that covert operations had some clout but this takes the biscuit!!!
Lets take another look at Appropriate software…..
Yup definately a relationship there, what else is there i wonder…..keep looking,  there cant be nothing else can there, i mean, looks a bit like there could be a bit of an issue but not much, is there????
Take a look at the original print on the software being used …..
Ok not much to see here move on move on……..wait a minute, does that say?
So I wonder why Occupy would want to use these?????
Has the Occupy movement in London been operated from the inside from day one? Well it certainly looks like it!!!
OK after having a little more time to dig round 'google' I did a little search on the owner of one of the domains that wasn't hidden from prying eyes…..like mine. A simple search for the owner of the domain, a Mr John Bywater. Sometimes Google reveals a little more than people would like.
Link can be found here
More to Follow…..